The international Ensemble "Altera Pars" (in English: Other Side) specializes in the per-formance of baroque and classical music. The musicians are leading soloists of European orchestras on period instruments. This allows for a variation of the line-up from 3 to 9 people and opens up a rich chamber repertoire from the 18th to the early 19th century.
It's a pleasure for the musicians to rediscover and work on works that have long been believed to be lost. The ensemble was founded by the flautist Polina Gorshkova and is a welcome guest at renowned international festivals.
Listening back to our concert in WDR broadcast hall Cologne, still available till November 10th. 2023.
Interesting, new, lively and awesome repertoire from 18th-century Moscow and St. Petersburg by Sebastian Georges and Ernst Wanzura.
NEW CD: A Lifelong Journey

While working on the first CD "Les Barbares Galantes – Masterworks of German composers in Moscow 1770-1800", the musicians of the ensemble came across other completely unknown and exciting works by the German composer Sebastian George. There were certainly reasons why Sebastian George has completely disappeared from music history along with his music, but certainly not for the reason that his music was not fresh, lively, original and well-written.
Sebastian George (ca.1745 – 1796) came from Mainz and was a very adventurous and active person. He worked as a composer, piano teacher and conductor and came to Moscow around 1767.
On this CD you can hear six of his chamber music works in six different formations from duet to quintet.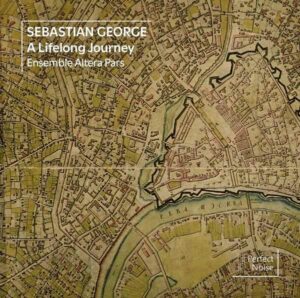 On the current CD Les Barbares Galantes, rediscovered masterpieces by German composers in Moscow from 1770 to 1800 can be heard.
The Russian musical culture of the 18th century gave mankind thousands of excellent compositions, many of which are wrongly forgotten in archives. It is all the more interesting for us today to explore these treasures of the past.
This CD features works by Sebastian George (1740-1796), Johann Joseph (Ivan) Kerzelli (1752-1820), Johann Heinrich Facius (1759-1810) and Joseph Haydn (1732-1809)